Sergio is the creator of Makerlog, a web app that lets Makers log their progress [including me - Kilian] and he is building the next version using Polypane. We interviewed him about his challenges and how Polypane helps him.
Can you tell us about yourself and Makerlog?
Hi folks! I'm Sergio Mattei, maker of Makerlog. Makerlog is a community of over 6,000 software developers learning, building, and growing publicly, together. On our site, you share your daily tasks & earn a streak (count of consecutive days building your product). It's a fantastic model for accountability & community support: with Makerlog, you'll never feel alone in your journey.
You're working on a new version of Makerlog. What can users expect from it?
Makerlog's new version is over six times faster & lighter. It finally brings mobile support, a refreshed design, and a UX that gets out of the way and lets you be more productive with us.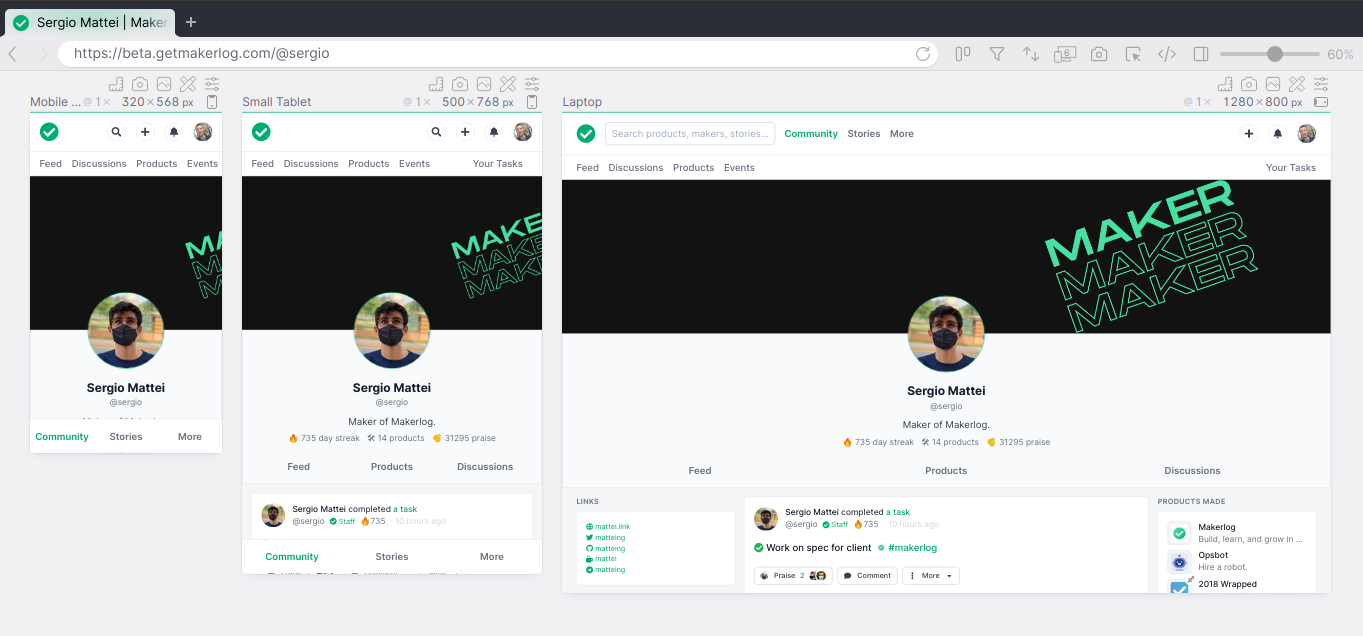 What challenges did you have building this version?
The biggest challenge was certainly refactoring the entire codebase. This was, in essence, a total rewrite of the frontend. Now, I'd usually frown upon a rewrite, but this time it was necessary: it wasn't delivering a level of reliability & performance you'd expect from a solid community product.

How have you been using Polypane?
Polypane has been with me since the day I started the redesign. From the moment I decided to build mobile-first, Polypane has been an essential tool in my maker arsenal. It helps me perfect every detail: from multiple screen sizes to even SEO optimization with the integrated meta tags analysis. It's, simply put, the essential toolkit to build products users will love.
What results did you see when using Polypane to build the next version of Makerlog?
I've seen shorter dev time, increased mobile usage, and much better SEO & performance rates. Users are happier & less bugs are being reported than ever before.
What's next for you?
Makerlog's future is very bright! We're launching the new beta to the public in late December, with a relaunch across many platforms. We're bringing tons of features to help makers learn, build, and grow together.
It's the maker's heyday again. It's time to get all hands on deck and ship that sh*t, together.
Thank you Sergio for this interview! Sergio can be found on Twitter as @matteing and on Makerlog as Sergio. Join Sergio, me and 6000 others on the Makerlog community at getmakerlog.com.