Your site in peak performance
There's a million things you need to get right to give users the best experience. From responsive design to meta tags to page speed.
Polypane has the tools to improve your site quality.
Synced interactions
Test everything everywhere.
Just once.
Test your forms, menus and other interactions across your site on all devices in one go. Everything you do is synced between devices.
Meta panel
Stop looking through devtools for your meta data.
All your meta data in a single overview so you can quickly spot issues. Highlights missing values, duplicates, too long and too short content.
Meta panel
Pixel-perfect social media previews.
Pixel-perfect previews of social media sharing cards, for Twitter, Facebook, Slack, LinkedIn, Discord, Telegram, Bluesky and Google Search. In dark and light mode.
Outline panel
Your browser tells you which links are broken.
Automatically checks all the links on your page for problems. If they're broken or have other issues, we'll let you know.
Outline panel
The perfect structure.
Headings, Focus order, Document outline. Get an overview of your site and get the perfect structure.
Debug tools
Improve color contrasts
Find all elements that don't have enough contrast using the real text and background colors. We'll suggest improved colors too!

Accessibility panel
Automated accessibility test
Test your pages with Polypane's accessibility panel to get an overview of issues and ways to improve them.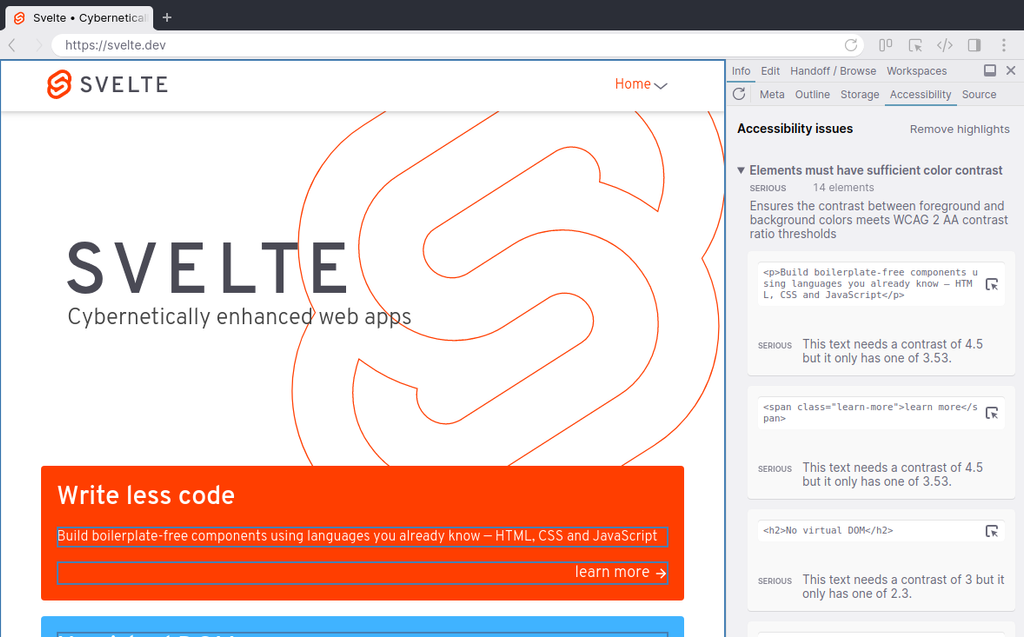 Debug tools
40 different debug tools
Test your site with simulators like color blindness, tunnelvision and dyslexia.
Debug layout issues like horizontal overflow detection, disabled images and unneeded scrollbars.
And much more
Unlimited Viewports
Scroll Syncing
Hover Syncing
Grid Overlays
Unified Console
Keyboard Syncing
JSON Viewer
Device Presets
Freeform Resizing
Horizontal Overflow Detection
Developer Tools
Pixel-perfect Social Media Previews
Different Layout Modes
Device Emulation
Handoff Support
Live Reloading
Accessibility Audits
Custom Sessions
Page Outlines
Live CSS Editing
Color Blindness Simulators
Full Page Screenshots
Visual Design Diffing
Meta Data Overview
CSS Breakpoint Detection
Overview Screenshots
Unified Element Inspector
Touch Emulation
Automated Form Testing
Screenshot Editor
Web Vitals Inspector
Color Picker
Browser Extensions
Broken Link Checking
Share Links
Custom Headers
Dark Mode
Workspaces
…and more added monthly!
Build your next project with Polypane
Use all features on all plans
On Mac, Window and Linux
14-day free trial – no credit card needed
Try for free