Documentation
Learn how Polypane improves your workflow
Polypane Links
Polypane registers the polypane:// protocol on your device which lets other programs open links in Polypane directly. This protocol also supports sending along panes. Various integrations make use of this feature, but different tools on our website do as well, like our workspace generator.
Share panel
When you hover over the address bar in Polypane a QR code icon will appear to the right. Click this to open Polypane's Share panel. Here you can find QR codes for regular links or for Polypane links. Scan them with another device, copy the link or download the QR code for later sharing
Regular Links
Regular links are great to share URLs with your mobile devices. When Polypane detects you have a local URL opened it will automatically replace that with your internal IP so it can be opened by other devices on your network.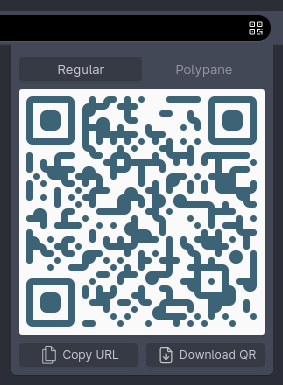 Polypane Links
Polypane links are like regular links, but they're more powerful and they're perfect to share your workspace with the rest of your team.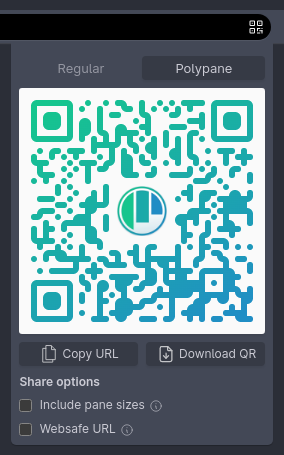 Pane Sizes
You can check "include pane sizes" to send along your current list of panes. Note that this feature needs the recipient to also use Polypane 7 or higher.
Websafe URL
Instead of using the polypane:// protocol, this will use a special opener URL (similar to e.g. Zoom) that uses the Polypane HTTPS website to open Polypane. Because this is an HTTPS URL it will be recognized as a URL in more places, and will be easier to share and click.
Have a question about Polypane?
Contact us any time though chat, Slack or our contact form:
Contact Support
Build your next project with Polypane
Use all features on all plans
On Mac, Window and Linux
14-day free trial – no credit card needed
Try for free