Documentation
Learn how Polypane improves your workflow
Browse
The Browse tab in the panel lets you show any website, like documentation, your design system or another reference, alongside with your panes.
This way you dont have to tab back and forth between the site you're working on and the documentation and you get to keep context for both. In addition, the Browse tab gives handy access to any handoff tools you might use, like Zeplin and Figma.
The URL in the browse panel is linked to the current tab, so each tab can have its own resource open.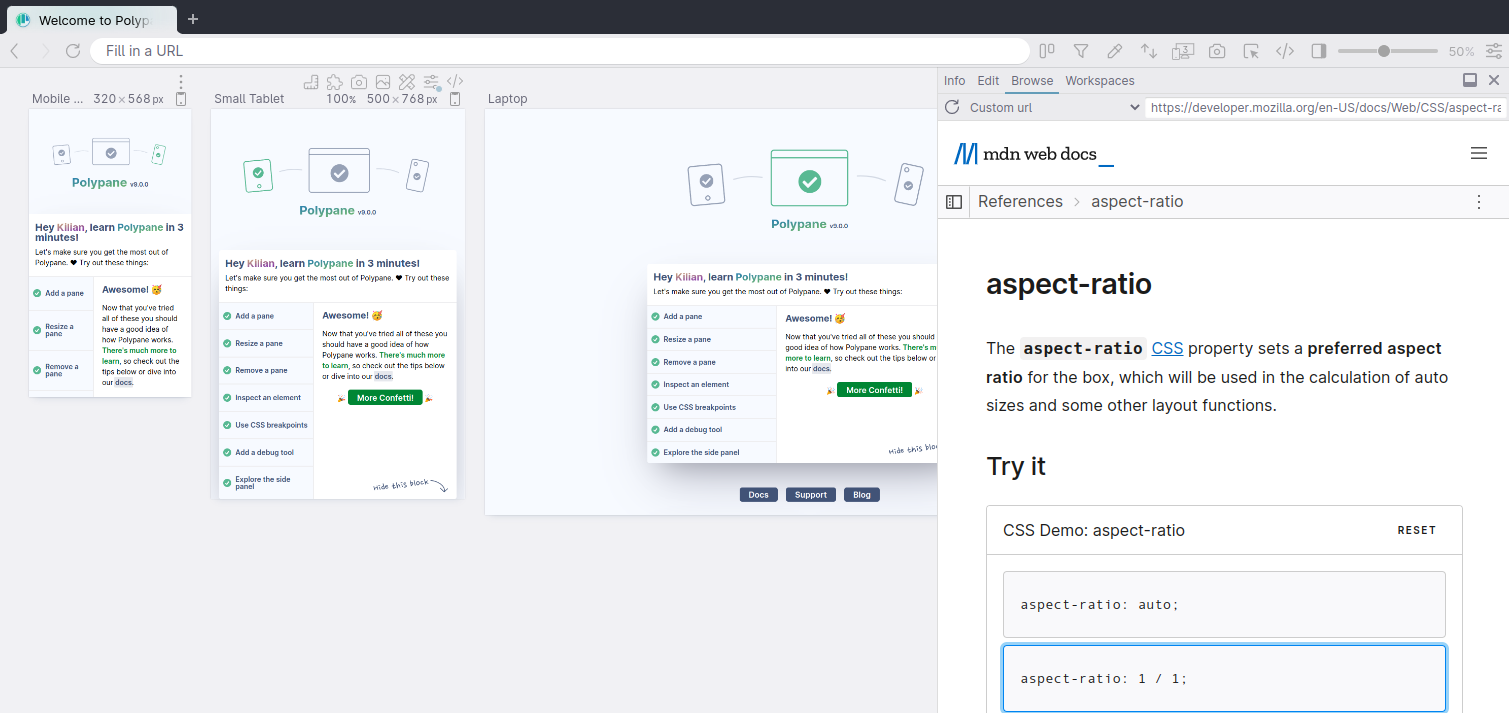 The Browse panel will be muted whenever it's not visible.
Custom URLS
Use the "Custom url" option in the dropdown to open any URL in the side panel view. This is ideal for any reference that you want to have up on your screen, like API documentation, Storybook or MDN.
Quick-open the Browse panel
With the shift ctrl/cmd L shortcut you can quickly open the browse tab and focus the address bar.
Right click any link in your tabs and select "Open link in panel" to open the side browser and display that url.
Logging in with the Browse panel
As mentioned on the website issues you could encounter page, the Browse panel can be used to log in to sites that use SSO, oAuth, CSRF or federated logins that might not work well with multiple simultaneous login attemps. In the Browse panel the login flow is only called once and because the session is shared with the panes, once you're logged in using the Browse panel you should be logged in in all panes.
Handoff tools
In the dropdown you'll also find a list of handoff tools that we have built-in support for. Handoff tools act as a bridge between the designer and developer, so contain all the information and designs for developers to implement.
Picking these will guide you straight to their project overview (or login page)
Have a question about Polypane?
Contact us any time though chat, Slack or our contact form:
Contact Support
Build your next project with Polypane
Use all features on all plans
On Mac, Window and Linux
14-day free trial – no credit card needed
Try for free