Documentation
Learn how Polypane improves your workflow
Source panel
The "Source" tab in the Info panel shows the (generated) HTML source of the current page.
The HTML is syntax highlighted and sections are collapsible so you can quickly scroll through the source. By default full words are selected, but you can doubleclick to select entire lines for easy copying.
You can reload this view with the reload button in the panel.
Auto-formatting
Polypane automatically formats the HTML to fit the panel so even if you minify your HTML, it will be readable. The page is formatted with Prettier, and you can change the Prettier configuration.
If the source contains validation errors, Polypane is not able to format it.
HTML Validation
Polypane automatically validates the generated HTML source and lists anything it finds. Hover over the element or line info to scroll to and highlight the issue in the source, and highlight the element in the panes. Click the element to open it in the Elements panel.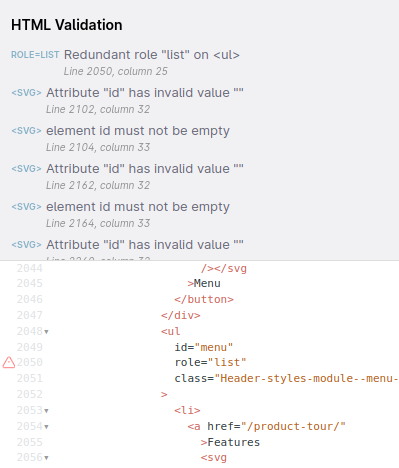 Errors are also indicated with markers in source itself.
Have a question about Polypane?
Contact us any time though chat, Slack or our contact form:
Contact Support
Build your next project with Polypane
Use all features on all plans
On Mac, Window and Linux
14-day free trial – no credit card needed
Try for free